Film emulation is all the rage these days, from plug-ins to LUTs. Products like Koji Advance, Magic Bullet Film, FilmConvert, Visioncolor Impulz and many similar products aim to "emulate" popular film stocks to add a less "digital" look to your image, mimicking as if it were shot on film instead of a digital camera. Many would ask, "Why do such a thing? It looks so clear and sharp". It might sound like a strange idea but its easy to understand when you think about how pictures and "selfies" are typically shared: usually highly manipulated in some application like Instagram or Lightroom with a look that usually degrades the image in favor of a highly stylized feel. These "film emulation" type of plug-ins aim to do a similar effect with video, although to a far lesser extent than most of the photo based tools. The true accuracy of the "film emulation" to a specific film stock is always a big question, but its clear this hasn't been a detractor for many who enjoy using these effects for quick and easy color starting points.
For this review, we'll be focusing on the Koji Advance plug-in and LUT package. The plug-in comes from the same team that developed Koji Color, a set of film emulation LUTs developed under the supervision of color timer Dale Grahn. The Koji Advance plug-in is compatible with Adobe Premiere Pro, Adobe After Effects, and Apple Final Cut X. However, they've also included a huge variety of LUTs, in case you want to do more manual color correction in DaVinci Resolve, Adobe Speedgrade, or any other application that accept 3D LUTs in a .cube format.
Koji 2393, Source footage courtesy of Phil Arntz
Koji 2393 N, Source footage courtesy of Phil Arntz
As a colorist, I crave control over the colors in an image and that control is not usually associated with plug-ins, look presets, and other "shortcuts". However, my numerous tests with Koji Advance left me feeling surprising creative. As a benchmark test, I regrading a project I had graded with a Kojicolor LUT in Resolve, and I was pleasantly surprised how close I had come (ignoring the secondary corrections, power windows galore, and other fancy business done in the Resolve version). This is partially due to the fantastic looking film stocks available with Koji Advance, no matter if we are discussing the plug-in or the LUTs. Although there are only 5 film stocks to emulate (each with a few variations), I found these subtle emulations to be fantastic starting points for a huge majority of my color grades. A key aspect I've found important to film emulation is using it as a "starting point" and never assuming its won't require additional color correction or grading. If you are looking for a one-touch button for color correction, you'll likely be disappointed with this plug-in (and with most plug-ins, for that matter. It just doesn't work that way....yet).
Koji 3523 S, Source footage courtesy of Phil Arntz
Koji 3523, Source footage courtesy of Phil Arntz
Moving onto the specifics of the plugin, it supports a huge variety of cameras and formats, both Rec709 and LOG. Essentially, if you have a somewhat recent camera, it is likely supported directly within the plug-in, but if not, they also support generic Rec709, Log, and Cineon options to cover you. White balance is offered within the plug-in, using manual kelvin (K) temperature or with the automatic function (which I found worked quite well for an "auto" function). Basic Lift, Gamma, and Gain controls allows you to adjust your image, should it be too dark or bright after the emulation is applied. Printer point controls allow for some quick but powerful adjustments over your image, should it have any type of color cast or white balance issue not fixed by the WB control. The appearance of printer points is a welcome addition, as its a control rarely seen in most recent color correction plug-ins or effects, except for dedicated color correction packages. Lastly, the plug-in allows you to add film grain to your image, sampled from a variety of different film stocks. Sliders for contrast and film grain saturation provide additional control over the look and feel of the film grain, allowing you to really customize its look and feel.
Depending on your system specifications, your NLE, and your graphics card set-up, this plug-in may or may not play in realtime for you, especially if you have numerous effects stacked on top of it. However, most tests using both HD and UHD material played back in realtime using Adobe Premiere CC 2015 for me. I did not get a chance to test the plug-in is Final Cut X.
Koji 2393, Source footage courtesy of Phil Arntz
Koji 2393 N, Source footage courtesy of Phil Arntz
The LUTs provided can almost be seen as a bonus for most, as the plug-in is really the main attraction, but for some, these may be of interest. Having personally used these LUTs (and previous versions of them), I can easily say they are the BEST film emulation LUTs I have used, period. They are extremely subtle, never imposing a "look" I am forced into, and they work on a huge variety of formats and cameras (as they supplied specific versions for each camera \ format).
As a quick note, I cannot state if the LUTS & plug-in exactly match the Kodak or Fuji print stocks represented, but I can say they provide a very pleasing image that seems similar to my research on the film stocks and several films that have used them. That being said, I cannot attest to their exact "technical" accuracy and in the long run, I do not think it truly matters to a certain extent. Many argue till end of days about film v. digital, and films emulation, but ultimately, I feel its all about the look and feel you prefer. I've found this product extremely useful, especially the LUTs, and would highly recommend it to those looking for a tool to help establish a good starting point for a color grade.
I put together a quick video demo \ review as well, if you would like to see it in action. Be sure to check out the plugin at www.kojicolor.com.
Koji 3521, Source footage courtesy of Phil Arntz
Koji 3521 N, Source footage courtesy of Phil Arntz
Koji 2303 BW, Source footage courtesy of Phil Arntz
In the world of color correction and grading, 3D LUTs are hot and in demand. Its no surprise, as 3D LUTs can be an effective tool to simplify the color grading process and provide sophisticated looks quickly and easily. However, there are a huge variety of high quality products available to serve a similar purpose, such as Filmconvert, Koji, Visioncolor, and others available freely on the web. If so, why consider investing in yet another color solution? Simple. When it truly stands out and find a permanent spot in your toolbox after one use.
LookLabs SpeedLooks Studio is a package of 3D LUTs (or look-up tables), based around six distinct looks, intended to assist with color grading. The six looks, named SL-3500 Clean, SL-3535 Big, SL-3530 Matrix, SL-3522 Noir,SL-3527 Blue and SL-3528 Gold provide quite a variety, and even have several variations within each look (such as Kodak and Fuji variants of my favorite SL-3500 Clean, differing intensities of SL-3527 Blue, and low and high contrast versions of SL-3535 Big). This makes the "six" looks closer to 50, and covers the gamut of popular styles you might consider applying to your footage.
With it's fourth generation of SpeedLooks, LookLabs continues to develop their unique approach to camera matching and color management. While other packages provide numerous versions of each LUT (one for every camera model and profile) , LookLabs re-thought the process and delivers an innovative solution that simplifies the previously painful process of matching cameras in way that is friendly to colorists, video editors, and even those completely new to color grading.
Looklabs includes "Camera Patches" for almost every digital camera available on the market today (GH4 and A7s soon to be released), which when applied, normalizes each image to a universal LOG gamma curve, which is remarkably similar to Arri's LogC. The camera patches do a good job of matching the footage shot on various camera, from my Blackmagic Cinema as my A-Camera, my GoPro Black used for slow motion and strange angle shots, and my Canon Rebel as a B-camera, so when I get to grading, the colors are already fairly evened out. Combined with the fact it "standardizes" all the footage into the colorist-friendly VS-LOG, I find the approach a very effective solution for both matching numerous cameras and preparing your footage for color grading using the other other aspect of the package, the six looks (ala 50 variations).
Before I start discussing the looks, I would like to mention that I feel color grading, in general, is a very personal and subjective process. One person may love a look, while another person may downright hate it, and that should be expected for any creative craft. A good example: Hyper low contrast seem to be all the rage in many music videos, films, and commercials, but I personally do not find it visually appealing. Just a thought.
Overall, I found the various looks in this package to be subtle, varied, and useful in a wide range of situations. SL-3500 Clean is likely to the most used, due to its ability to "breathing back life" into dull and muddy footage. It's punchy and saturated (depending on the variation), and provides an excellent starting point for further grading without being overbearing.
Of course, when you want that stylized color contrast of the Hollywood Blockbuster look, SL-3535 Big makes your images pop even more than Clean and adds a hint of the familiar cinematic teal\orange. As the teal\orange push can occasionally become a bit overbearing, LookLabs even included a "MINUS BLUE" variation, saving you a small bit of manual adjustment.
Looking to stylize a black & white film noir about an ace detective gone awry? SL-3522 Noir provides you an ample variety of super-stylized black & white looks, and even a film stock emulation for the classic Kodak Tri-X. Although a very easy look to get by simply reducing saturation, these LUTs offer some neat film-like looks that would be hard to recreate manually without some heavy tinkering.
If you are looking for a nice punchy blue look for your image, SL-3527 Blue gives you a several choices. Some are quite mild, while others, like the heavily stylized "Day for Nite", are intended to completely recolor your image for dramatic effect. This look was so useful, I even used it in my workflow as a professional colorist to strategically add blue to several scenes in a project I was color grading at the time. It's not that I couldn't add blue tones using a variety of other color grading techniques, but the fact that this look LUT combined with some manual color grading resulted in a unique image that felt more natural and less processed than using my other more manual techniques. It was a surprising result, which you can view in its entirety below. I was very pleased with the final look, and most importantly, so were my clients.
Final Thoughts: If you couldn't tell, I really like LookLabs Speedlooks. Color correction and grading can be done without any LUTs, powergrades, presets, or plug-ins, but having them certainly provides some great starting points or some quickly applied looks, if you don't want to go further than shot matching & balancing. Color correction packages are becoming increasingly common in post-production, and LUTs packages are a dime a dozen, but I found Speedlooks consistently stood above the crowd and I highly recommend them. Lastly, I found the sales and support team to be friendly, responsive, and very well informed on their products. They were able to handle all my questions about their products, no BS or marketing elevator speeches.
LookLabs offers Speedlooks in 2 different packages, Studio Log, which includes the camera patches, and Studio Linear, which is purely Rec709 LUTs without the conversion to LOG (no camera patches). While I personally always like working in log, its an additional level of control not always needed to create beautiful imagery and a decision that's up to you. Check out their website and see which is more appropriate for your workflow a budget, which starts at $99.
SpeedLooks in Use
Rival Brothers Coffee - Many shots used Speedlooks V3 SL-3527 Blue at various intensities to help establish a consistent blue look that the client liked.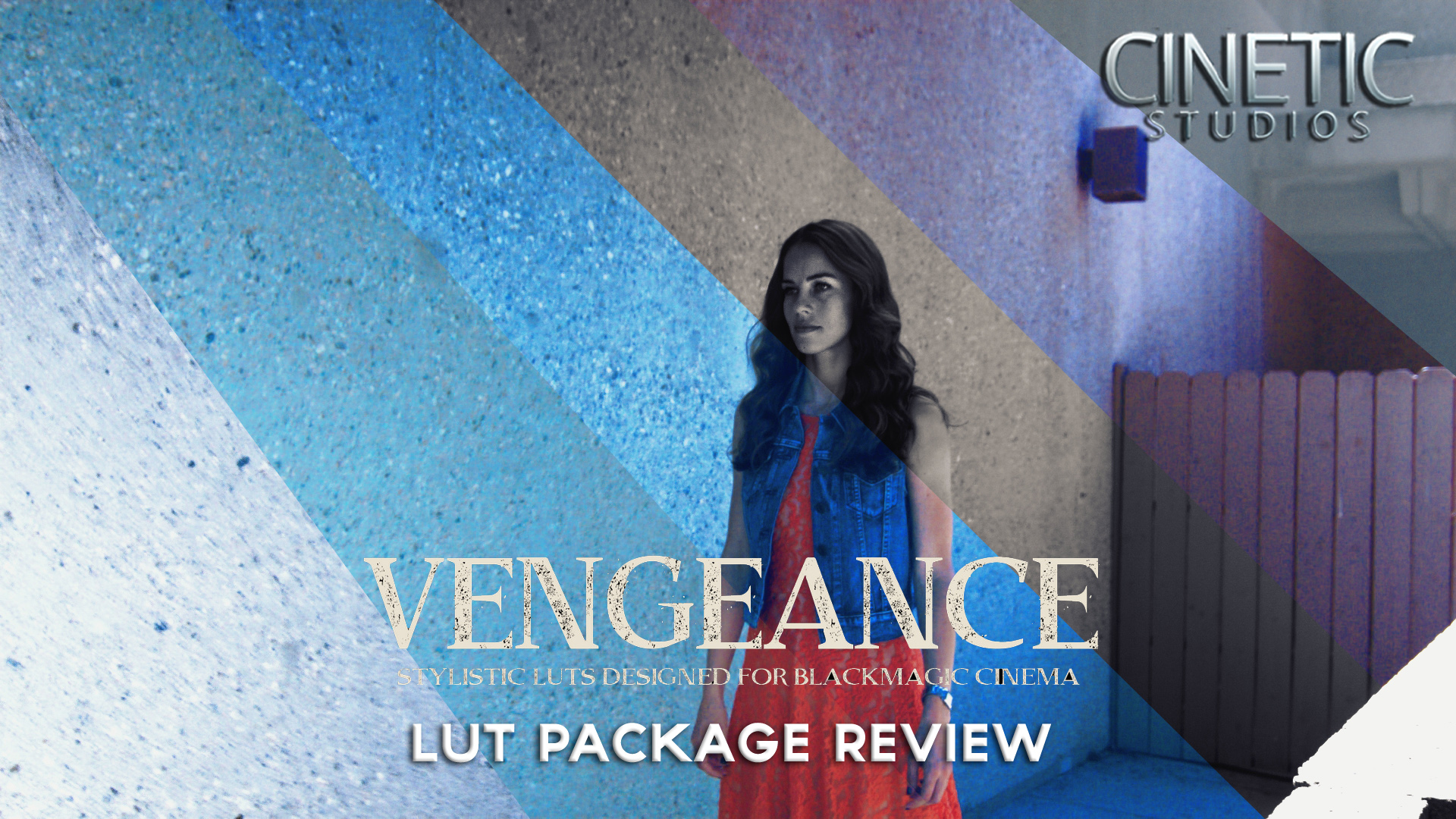 If you've read my previous article about LUTs, you learned all about the different variety of LUTs, how they're different, stupid, not magical, and all that fun stuff. In this article, we are going to take a look at "Vengeance", a stylized LUT package designed specifically for the Blackmagic family of cameras. This package comes from the guys over at Ground Control Color, who have graciously provided this pack for testing and review. While some may frown on the limited audience for these LUTs, there are a LOT of new Blackmagic owners out there (or there will be very soon due to the pocket cinema camera "fire" sale that recently occurred). From what I see, these LUTs are best suited for those looking for a nice looking image or at least a decent starting point to grade quickly & easily while using a cinema camera with a true log & raw capture ability.
After some experimentation, I see the Ground Control LUT package as an quick & easy way to get some decent stylized looks and\or a good basic starting points for your color grade (combined with opacity to adjust for intensity) for your Blackmagic LOG & Rec709 footage. Included in the package are 10 Look LUTs, in both LOG & Rec709 form, and a technical conversion LUT for BMDFilm (Log) to Rec709, which you can also get for free on their website.
As you can see in some examples below, it becomes especially important to isolate skin tones with certain aggressive looks (as I've left some unisolated purposely to illustrate what happens in general with aggressive color correction and sensitive colors ranges such as skin tones and black levels). This illustrates nothing negative with the LUTs, as this would occur with any type of aggressive color correction, but I thought I would use them to illustrate my point.
Be sure to check out Ground Control Color's website, where you can grab the LUTs for a $19.99. I would definitely recommend these if you are a Blackmagic Camera owner looking for some easy but unique looks to stylize your footage. These LUTs can be used in any editing platform or color correction application, and I've found them quite flexible and subtle.  Below you will find a few samples of the LUTs applied to some footage that I shot on a BMCC 2.5k in RAW, and graded in DaVinci Resolve. No noise reduction was used on the images, so they may seem slightly noisy\grainy. Huge thanks to Stephanie Duchaine for being such a great model .
Photo courtesy of Spectracal
UPDATED: 7/27/2015 : Many EVF (electronic viewfinders) and on-camera monitors (such as those from Atomos and SmallHD) have built-in technology to allow the use of LUTs on-set. The use can range from simply providing a display LUT, so you can focus and expose properly while recording a log \ flat image, to actually burning in a creative look into the footage being recorded.
The word LUT may have lost all meaning to you, or it may mean numerous things, aside from it's actual definition of "Look Up Table". I'll try & explain it before we move forward, as it's important to realize how limited LUTs are. A LUT is nothing more than a massive set of pre-calculated numbers for both input and output colors, or a long list of "this green #1 turns to into green #2" style equations. I am simplifying this significantly, but I am trying to make a few points about LUTs in general before I go forward and abuse them for our creative intentions. You give a LUT a color and it mathematically hands back another color, no matter if it's applied to Canon DSLR, RED, Alexa, scanned film footage, etc. A LUT is a stupid mathematical conversion & has no idea what it's being applied to. They're created for ONE specific purpose, whether to emulate\prepare for a film print (sample LUTs, FilmConvert, Impulz), convert between a LOG format and Rec709 (HDTV) for a specific camera, or provide a creative look (OSIRIS, Blockbuster LUTS, ). Okay, long story short: LUTs are stupid math-based color conversions that don't know anything about what camera or format we're using, what color space we're in (LOG or REC709), how the footage was shot\lit\exposed yet many believe they are "magical one-step color correction" machines. Now that we know that's not so, how can we use them creatively while understanding their limitations?
Note: I wanted to mention FilmConvert at this point, as its essentially a on-the-fly LUT generator that's been programmed to adjust it's curve based on the input camera and the "output" film emulation (so actually 2 LUTs), but its still essentially a LUT for our purposes.
LOG OR NOT? - With YouTube, Vimeo, and forums galore spreading different information, this has become a very confusing subject. If your footage was shoot on a Canon or Nikon DSLR, even with a picture profile like Cinestyle, VisionTech, Prolost, or many of the others low contrast picture styles, I highly recommend you do not treat this as "LOG" and treat it as Rec709 footage when choosing "creative" LUTs that require a choice. That being said, if there happens to be a specific option for that profile\setting, proceed to use that one, of course. The exception to this is some of the newer cameras like the Sony A7s, which comes with proper S-Log2 can be treated as LOG. You can tell because the feature is ALWAYS inherited from the higher end models from that manufacturer.
Technical Conversions
One of the original "true" purposes of LUTs is to convert between video gamma formats, such as converting Canon C-Log, REDLogFilm, BMDFilm and LogC to Rec709 (HDTV standard). I've likely left out several LOG gamma types, but you get the point. Most camera manufacturers will provide a "normalization" LUT, or several in the case of Arri and Blackmagic, that allows a direct conversion of the image from the "milky", low contrast log footage captured in camera (which allows the camera to record the most image data) to a more "contrasty" and saturated Rec709 standard, WITHOUT any other changes. No creative additions are made by using these LUTs. These are very useful in establishing a good base image\set-up for grading a LOG footage, as you can simply focus on color having already converted the image from LOG gamma to Rec709.
If your are working with RED footage in REDLogFilm, Alexa footage in LogC, or any Blackmagic footage in BMDFilm, proceed to use LOG based LUTs for contrast expansion & the color effects in one step. If you'd like more control, you can use a technical LUT to convert your LOG footage to Rec709 and then use Rec709 "look" LUTs, as this will provide a more subtle look.
Here you can download a set of generic Rec709 to Log (technical) conversion LUTs, if you'd like to try working with your footage in true LOG but shot in standard Rec709 or if you're unable to shoot in LOG. Just be aware, 8 bit DSLR footage will not fair well with this harsh of a post correction. These conversions is best served for footage that is 10 bit or higher. Thanks to Juan Melara for the conversion LUTs and huge thanks to Stephanie Duchaine for being our model for these tests. We'll hopefully be seeing more of her in future content!
Creative Use of LUTS
Now that you hopefully understand LUTs and some of the different types and uses for them, we get to step into the fun and creative aspect of using LUTs: establishing looks. I'll state this first: I feel there are better alternative to "look" LUTs, such as powergrades, plug-ins, presets, and other more configurable methods of sharing color manipulation. However, seeing as they've become popular lately, I figured I'd like to share some creative uses and "misuses" of LUTs that I've found through my work. These strategies will work whether you are grading in an NLE like Adobe Premiere Pro of Final Cut X, compositors like After Effects, and of course, color correction applications like DaVinci Resolve and Adobe Speedgrade.
1. Set up LUTs on an adjustment layer in Premiere of After Effects, use a 3 node set-up in Resolve, or 3 layer set-up in SpeedGrade. This will allow you to separate. This allows you to make adjustments to the image using a basic three-way color corrector before the LUT and after, should you want to. They have very different effects, especially if you are working with LOG footage. Try to put any changes to exposure or color temperature before the LUT.
2. Convert an image from LOG to Rec709, and try using a Rec709 based "look" LUTs instead of the LOG version for a slightly less-intense effect. This also separates the normalization and "look" process that are combined in a "LOG" based look LUTs so you can reduce\intensify the "look" using opacity\transparency controls on the Rec709 "look" LUT layer or node. You do not have this extra control when using a single "LOG" based look LUT.
3. Combining "look" LUTs with FilmConvert can yield very unique and pleasing results when done subtly with taste. As I mentioned previously, Filmconvert is essentially an "on-the-fly" film stock emulation LUT generator in the form of a plug-in, and it certainly can be combined with some light "look" LUTs, and even some grading to make everything fall together . I would highly recommend using some of the less intense looks (aka avoid crazy cross processed or hard teal\orange looks), or bring down the opacity on a super intense look like M31 from the OSIRIS pack.
4. Treat your film as if it were shot on film by using actual film print stocks. Try and emulate a different "film stock\style" for creative purposes, using one stock for one location and one stock for another to give them distinct looks. You can use the film stock LUTs provided by Juan Melara, who has provided a Kodak and a Fuji stock for us to play with, or even several that are included with DaVinci Resolve Lite. Use the "ConstLclip" version of the LUTs. While these are "technical" LUTs created to show what the film will look like after it will be printed back to film for projection in a theater, we can leverage them for a slightly different purpose. In recent times, as the majority of film projection and capture has gone digital, colorists began to use these technical "monitoring" LUTs as look LUTs to add a unique look to the generic "hyper-clean" image captured by today's high-end digital cameras. We can do that exact same thing, but just be aware these type of emulations tend to have some degradation on the image quality.
5. If your grading application allows for it, such as Resolve and Speedgrade, selectively isolate everything but the shadows or the highlights of the image using a secondary selection, power window, qualifier, etc and apply a look LUT to only a selective portion of the image. This works if a LUT is causing noise to appear in a specific area of the images, such as the shadows or highlights. This can help intense looks, such as OSIRIS M31, fit in and look less "slapped on". The "chroma - light & dark" feature is Resolve is especially useful for this use.
6. If you understand what a LUT was created to be used on, what it's intended to do, and where it's limitation is, your limit is simply your imagination and your scopes. I mention your scopes as LUTs break 32 bit floating point build into Premiere, Resolve, After Effects and most NLE\Color applications. Long Story Short: If your have image data below 0 or above 100 on your scopes, you MUST correct it to be within 0 - 100 before applying a LUT. Otherwise, anything above 100 and below o will be "clipped" out, never to be found again.
I hope you enjoyed this whirlwind article about using LUTs creatively. I literally just scratched the surface, but I wanted to share some of the techniques I found useful and see what tricks you guys use with LUTS, both technically and creatively. Please leave a comment below if you found this useful or if you have a technique to share!
Here is an example that combines a technical LUT (for conversion), standard grading (power windows, curves, three-way CC wheels) and a creative look LUTs (all adjusted appropriately) for a very unique image:
Disclaimer: Although I do mention several specific packages in this article, I am not associated with any of them and I did not receive any compensation for their mention. I will only mention a tools if I personally find it useful in my work and I feel its worth sharing.